Marayke Jonkers is a Paralympic swimmer, paratriathlete and founder of charitable foundation Sporting Dreams, which helps athletes with disabilities. She has appeared on television shows including Insight on SBS, Totally   Wild on channel 10, and in publications including Cosmopolitan Magazine and the Weekender.
Marayke, 38, from Queensland's Sunshine Coast is a young woman with a love for life and a spirit of adventure who is bodly pursuing her dreams – and loves encouraging others to do the same.
At the age of 13 she wrote a list of 100 goals she wanted to achieve in her life time and has been ticking things off her list  ( long before the famous movie the bucket list made it popular). Top of her list was win a Paralympic medal and be one of the best swimmers in the world.
At the Beijing 2008 Games she achieved her dream when she won the silver medal for 150m individual medley SM4 classification, after winning two bronze medals at the Athens 2004 Paralympic Games and representing Australia at the Sydney 2000 Games.
Marayke says the medals are the culmination of a lifelong dream to swim for Australia which was born after she became a paraplegic in a car accident as a small child. When her mother was told Marayke would never walk again, she taught her daughter to swim instead.
Now she hopes her inspirational story will inspire others to take up sport and follow their dreams.
SWIMMING CAREER

Marayke has broken the world record for 100m butterfly, and has over 70 Australian records in breaststroke, individual medley, freestyle and butterfly.
Marayke retired from competitive swimming in 2011 due to injury, after being diagnosed with thoracic outlet syndrome- an overuse injury of the upper body which prevents her from lifting her arms.

Triathlon
In 2009 Marayke decided to fulfill a life long ambition to compete in a triathlon and entered a sprint distance event. A year later she became Australia's first female paratriathlete and paratriathlon medalist when she won bronze at the ITU world championships in Budapest, Hungary.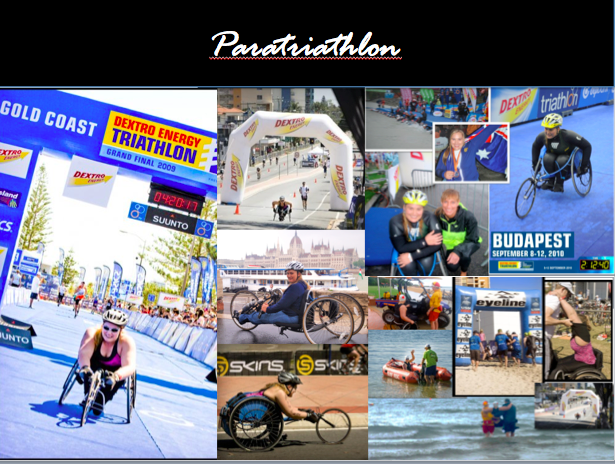 Sporting Dreams
She founded Sporting Dreams in 2008 to ensure up and coming Paralympians have the same opportunity she has had to enjoy fun fitness and personal development through sport. She has already given grants to over 90  promising athletes.
Academics
Away from the pool she earned two university degrees, in social science and communications, and  achieved a Dean's commendation for academic excellence. All this while training for the Paralympics.

Awards and other achievements
Her outstanding achievements have lead to Marayke winning many awards and accolades.
Marayke was named one of Australia's most inspirational women by Cosmopolitan magazine, being announced as the inaugural winner of the fun fearless female award.In 2005 she was named  Queensland Young achiever, recognising her sporting and academic achievements, and commitment to the community
Marayke was chosen to carry the Olympic Torch in Kunda Park on the Sunshine Coast. After the relay she was able to purchase the torch she carried, and now enjoys taking it along to schools and presentations so her audience can get up close with the Olympic spirit.

Some of her fondest memories are being announced as Outstanding Sunshine Coast Paralympian in 2004 and 2008, winning the  QLD Young Achiever & Sports Award in 2005 and twice being named as a finalist in the young Australian of the Year awards. 

In 2004 Marayke was selected by QLD premier Peter Beattie to be part of the inaugural group of Australia Day ambassadors fro QLD. As an official mmbassador Marayke visits a different Council region each year to deliver the  Australia Day address and participate in the host communities celebrations . In her speech Marayke says we should all "celebrate what's great, mate!"
Marayke loves a challenge and has tried skydiving, sit-skiing, snorkelling, kayaking, camel riding, and has travelled through Europe.
She grew up on Queensland's Sunshine Coast, where she still lives today.
Marayke is in increasingly high demand by corporate audiences as a motivational speaker, and hopes her inspirational story will inspire others to take up sport and follow their dreams.
Her favourite quote is "You never know what you can do until you try".
To learn more visit Marayke's website www.marayke.com
Speaking
Sporting Dreams founder and triple Paralympian Marayke uses her career as a professional speaker to help raise funds for Sporting Dreams by  donating a percentage of her speakers fees.  Marayke's extraordinary achievements and life philosophies have led her to become a renowned and sought after keynote speaker.She has spoken to audiences ranging in size from ten to 3000 people, at venues as diverse as pre schools and parliament house.
Marayke's story and message is about looking inside yourself, digging deep and never giving up, especially on yourself.
In business and in life, just like in sport, we all face obstacles, crossroads and change but we also all have choices. Marayke's talks about finding the inner strength to keep going, create new goals and choosing to create the life you want through what can seem like insurmountable obstacles.
Marayke draws on her preparation for the Games in her presentation "Short Poppy Syndrome" to point out how winning people have winning attitudes and are not affraid to stand out and be the tall poppy who succeeds. In doing so, they encourage other people to do the same and a winning team begins to blossom.
There is no doubt team spirit drove the Australian Paralympic team to a record medal haul in Athens. Marayke's speeches reveal the secret behind the teams' success to help you create a winning team with a winning attitude in your workplace.
Marayke's tailors every speech, including powerpoint and video, to meet the specific theme of your conference.
Topics
Goal setting
self belief
Getting out of your comfort zone
Motivation, dedication, commitment and perseverance.
Creating your own support network
Time management
Stress management
Personal priorities
Work/ life balance
Coping with change
Exercise and nutrition
Resting when you need it
Practical sessions
Marayke can also offer a 'taste of the Paralympics' in a practical session where participants simulate various disabilities to play the sports of goal ball (for vision impaired athletes), boccia and sitting volleyball.
 This can be incorporated before or after her presentation and is very popular as a team building exercise at small events and with school groups.
Testimonials
"I have had the honour of sharing the stage with Marayke on numerous occasions. Her presentations are dynamic, insightful and of a professional standard. I highly recommend her to you."
– Dr Dennis Waitley
Founder of The Waitley Institute, mentor to NASA astronauts and the US Olympic Team.
 "Marayke spoke at a recent launch in Brisbane of Mission Australia's annual youth survey findings. She had the audience spellbound with her dazzling list of achievements – in and out of a swimming pool.  As the organiser of this event she impressed me with her ability to link her experiences and achievements to the findings of the youth survey. Her talk was therefore highly relevant to the launch event. I would be delighted to invite Marayke to speak at a future function."
– Clare Everson
Mission Australia
"Marayke was engaged as one of four keynote speakers at the CP Australia National Conference, "Thinking Outside The Chair" held at Jupiters Casino in May 2007. Other keynote speakers were Dr Norman Swan, Phillip Adams AO and Ric Thompson.

Marayke's keynote address was entertaining and inspirational. She used a number of mediums in her address to entertain and deliver her message. Marayke captured the audience with her presentation, using a mix of humour and real life experiences.Marayke was inspirational and motivational, what a great way to close the conference! As final keynote speaker she bought together the theme of the conference, closing the conference on a 'high'."
 -Geoff Rowe
Manager Service Development & Policy Cerebral Palsy League of Queensland
"It was such a privilidge to have Marayke as a guest speaker to a Shine session on the topic of 'STRENGTH'. The class of year 7 girls were inspired, not only by her significant achievements, but by who she is and her strong character. The girls were captured by her visual presentation and goal-oriented message that "they can pursue their dreams!". Marayke embodies the key message of Shine as she values her worth, strength and purpose, and pursues to place these values on others."
-Nina Sharpe
Citipointe Shine Co-ordinator
Clients
Banks

Heritage building society (Queensland)
Government
 Queensland Department of Education- international women's day speech at Parliament house alongside Young Australian of the year Tanya Major.
Premiers Department – Australia Day Ambassador every Australia day since 2005
Schools
Palmwoods State School
Chevallum State Primary school
Beerwah State High School
Sunshine Beach High School
St Stephen's College
Disability Sector
Shared Visions Conference (Disabilities Services Queensland)
Cerebral Palsy League National conference
Celebration of Abilities (Spiral,Nambour)
Maroochy Shire Council Interantional Day of People with Disabilities
Sporting Wheelies and Disabled Association
Australian Paralympic Committee
Corporate Events
Sunshine Coast Business Women's Network
USANA (nutritional supplements) Australia and New Zealand National Convention
USANA "Fun in the Sun" conference, Mudjimba 2005
AusMeat National Conference
Community Organisations
Lions Club
Rotary Club
To book Marayke  for your next function contact her on marayke@marayke.com or 07 54434685