In this blog you will find tips for aspiring snow bunnies on:
Using a wheelchair in the snow
Temperature regulation
Where to stay at NSW Snow fields
How to get there: NSW Snow fields
Adaptive skiing equipment: How will I ski
Benefits of joining Disabled Wintersport Australia (DWA)
My full un- edited story 'Let it snow' for Link Magazine
Let it Snow- full story 
Few things in life are more exhilarating than skiing down a mountain in Kosziusko National Park, awestruck by boulders between picturesque snow capped snowgums – except if your doing so in adaptive ski equipment enabling you to access the great outdoors for the first time in your life.
Having used a wheelchair since childhood I never imagined I would be a top of the highest mountain peaks in Australia until I discovered sit skiing.
Sit skiing, a ski mounted on a seat, was a great leveller in terms of ability. I was able to holiday with my sister Gemma who learned to snowboard. We learnt at the same pace with an instructor each because I had never skied before and she had never snowboarded. There was nowhere I couldn't go with Gemma, we could even ride the same lifts up the mountain. My disability didn't disadvantage me I was simply learning a new sport like everyone else.
While initially we relied on our instructors, and then volunteer guides by the end of what quickly became annual trips (I must warn you it is addictive) my sister and I would spend hours exploring together as we both became more independent and our instructor trained Gemma to assist me if I fell over.
"I just feel on top of the world. I forget all my eyesight problems and I just feel fantastic," says Jordan.
Adaptive equipment and instructors trained in assisting to select and use this equipment are the key to an enjoyable snow experience. Outriggers, specially adapted crutches with mini ski tips on the bottom, are used by many adaptive skiers including by wheelchair users who use a sit ski on the snow. Those with one lower limb affected ski '3 track' meaning with one ski on the snow and two outriggers. 4-trackskiing is the designed for standing skiers who usually require crutches or a walking frame to assist with balance and on the snow may require a "ski bra" or a "bungee cord" to keep the two skis together and outriggers for balance.
Both Jordan and I ski through Disabled Winter Sport Australia (DWA), the peak body in Australia assisting people with disability to access the snow from recreational through to elite level.
Their services range from fitting and hiring adaptive equipment to providing adaptive ski instructors and volunteer guides to accompany you and a 50% discount on lift passes for skiers with a disability and their guide. Services are available in New South Wales and Victoria and include camps in specialties including sit skiing or snowboarding, or race week camps and pathways for athletes aspiring to compete.
For Jordan it was one of these camps which began his Paralympic skiing dreams.
"I went on a Paralympic snow search camp and that's where I fell in love with skiing,"
His father Andrew Carroll explains how invaluable their services have been.
"DWA are fantastic. They provide support and ski guides for Jordan."
Staff and volunteers have the equipment and experience to work with all disabilities meaning everybody can get on the snow and even if you cannot ski independently you get the snow experience with assistance.
You can customise your holiday choosing from fully catered DWA camps, to enjoying a snow holiday with friends and family while hiring equipment and accessing guides or instructors to assist you. DWA can even train your friend or family member to assist you.
I chose to stay in picturesque Jindabyne, NSW giving access to both Perisher and Thredbo resorts on either the ski train or via car.
If you've ever dreamed of exploring the snow I urge you to try adaptive snow sports- but I warn you it can be addictive.
Bonus Tips:
Use a manual wheelchair?
Your push rims will be freezing so invest in a pair of waterproof gloves on the snow and wheeling around town.
Bogged in the snow? Try a free wheel or wider knobbly tyres on your chair. Or 'back wheel balance' so your front castors don't sink.
Temperature regulation problems: If you can't warm your legs try a spa or hot bath.
People with poor circulation will benefit from wearing full length upper and lower body thermals. Also Note in the image below The 'sack' keeping my legs warm as I sit ski in Switzerland where temperatures hovered near 0 Degrees.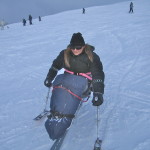 Adaptive skiing equipment: How will I ski
 Adaptive equipment and instructors trained in assisting a skier or snowboarder to select and use this equipment is the key to an enjoyable snow experience.
Outriggers are a commonly used piece of adaptive equipment and are crutches with a small skiis attached to the base. This is used for balance when skiing and turning, or with the ski tip flipped up to use as a crutch in the lift lines. Outriggers are used by standing skiers and sit skiers.
What equipment will suit my physical ability
Wheelchair users:
will use sit ski- a seat called a bucket, with either a mono (single) or bi (two) skis beneath. The ski is turned by rotating the shoulders and body. Sit skiers use 'outriggers' modified clutches with mini skis on the bottom to assist with turns, and pushing on the flat.
Using the lifts
Your instructor can teach you to use both the chair lift and T bar. Here I am independently using the t – bar. The sit ski has a cord attached which goes around the lift and you hold a string attached to this in your hand on the way up the hill. As you approach the dismount line you pull the string to release it while using your outriggers to move over to the side out of the way of dismounting skiers behind you.
On the chair lift your guide attaches the sit ski- sit back and enjoy the view. Then the lift is stopped briefly while I was unattached and pushed along the flat snow using my outriggers.
Standing skiiers who use crutches or a walking frame
4-trackskiing is the designed for standing skiers who usually require the assistance of crutches or a walking frame to assist with balance for example those with Cerebral Palsy, Multiple Sclerosis, Muscular Dystrophy, Post Polio or Spina Bifida.
You may require a "ski bra" or a "bungee cord" to keep the two skis together and outriggers for balance.
Standing Skiiers with use of one leg
3-trackskiing is the name given to the system enabling standing skiers such as people with a leg amputation or post polio to ski on one leg with stand up outriggers.
Vision Impairment.
Skiing or riding (snow boarding) for people who have a vision impairment firstly involves being tethered to or working with a guide at all times, and various communication systems from voice to radio are used to communicate. For safety you will also wear a high visibility bib stating vision impaired skier. Other equipment such as plastic poles may meet an individuals needs.     
Snowboarding:
An adaptive training device called the The Sno-wing allows an instructor/guide control of their riders movements whilst snowboarding. Useful in both snowboarding and loading on and off lifts. Snowboarding became a Paralympic sport for the first time at the Sochi 2014 Winter Paralympic Games.
Where to stay
  Budget: Snowy Backpackers.
A fun young environment with everything you need from kitchen to laundry, Internet café, kitchen, fireplace, books and board games access is via stair climber above the internet café. The accessible bathroom is separate to the dormitory so you can book private room or dorm bed – but won't have an ensuite bathroom. Kitchen was usable with assistance to reach higher items.
http://www.snowybackpackers.com.au
 Self-contained apartments: Finskos lodge run By DWA
DWA members have access to Finsko's Lodge, located in the grounds of the Jindabyne Sport and Recreation, NSW. Options include three bedroom apartments or bedsitter apartments. Finsko's Lodge has fully equipped bathroom and toilet facilities however the kitchen was not fully adapted for me to use independently in a wheelchair (not able to wheel under sink, some items in cupboards above my head) fortunately as I was travelling with friends this was not an issue. For more information on Finsko's contact Jindabyne Sport and Recreation Centre CLICK HERE
Resort style Accommodation
     Horizons Resort : with scenic views over lake Jindabyne,
a disabled access room with undercover parking in front and separate bedroom and living areas divided by a partial wall and curtain this studio apartment offers a more luxurious holiday. The only challenge is a steep hill between the rooms and restaurant. With a narrow manual wheelchair I was also able to use the non disabled room as the toilet was open plan and I wished to soak in the bath (the disabled room has a roll in shower). Call to check the doorway width is suitable for you before trying this option.
http://ski.com.au/accommodation/jindabyne/horizonsresort/index.html
HOW TO GET THERE: NSW SNOW FIELDS
Flying from Interstate?
The easiest way is to fly into Canberra International airport. Those who can walk are able to catch a bus to Jindabyne the central town closest to the ski resorts.
Wheelchair users unable to board a coach may wish to book a hire car with hand controls for the approximately three-hour drive.
Hire car warning:
be aware it voids a hire car contracts to take the vehicle above the snow line. This means to access the snow at parisher you need to catch the ski train, or use a taxi to take you directly to the slopes at Thredbo.
Ski Train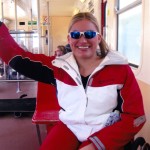 The ski train to perisher's Smiggins Holes  has wheelchair roll on access.
PHOTO:Marayke on the train
Wheelchair taxi
 A wheelchair taxi with lift is available in Jindabyne. I recommend getting the driver's phone number so you can call when you are ready to come down from the mountain.
Facilities: Jindabyne, while a small country town has everything a guest could need from supermarket to ski clothing and equipment hire shops, restaurants, massage and physio therapy.
 Benefits of joining Disabled Wintersport Australia (DWA)
Lift Pass Concessions up to 50% of any full day lift ticket for yourself and your guide in any resort in Australia.
Snowsports Lesson Concessions
DWA members (excluding associate members) enjoy a concession of up to 50% on Adaptive Snowsport lessons at all resorts in Australia. Be sure to plan ahead and mention you require an adaptive instructor.
Volunteer Adaptive Snowsport Guide
Specially trained volunteer guides can assist you free of charge, either when visiting the snow independently with family or friends or on DWA camps.
Adaptive Equipment
DWA members have access to rent specialised equipment to use while on snow.
DWA Members Camps
A series of winter camps for members held in NSW and Victoria including: accommodation, Snowsports guide, equipment, lessons and lift passes. There are specialised camps for sit skiers, skiers with a vision impairment, race week and even a women's camp.
DWA Sports Development System
If after giving an adaptive snow sport a try you begin to feel the urge to become competitive or even set your sights on the Winter Paralympics. DWA offers development programs including learn to race, recreational competition right through to elite international competition.
They also work closely with the Australian Paralympic committee and Special Olympics Australia to identify potential Australian representative athletes.
PHOTOS – SKIING IN  SWITZERLAND AND AUSTRALIA