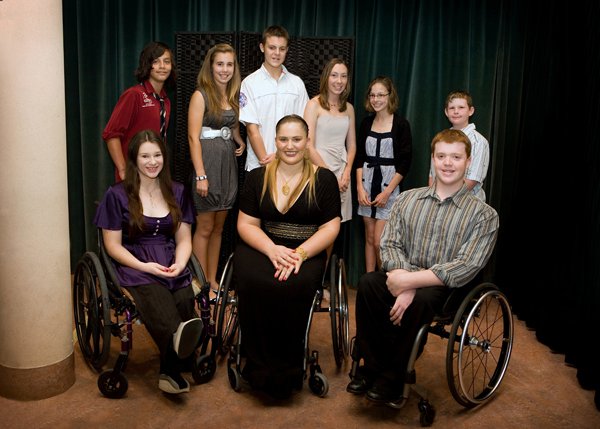 Marayke has awarded grants to nine Queensland athletes at the inaugural presentation ceremony for her new foundation for disabled athletes 'Sporting Dreams' on Saturday November 15.
The awards were presented on November 15th, 2008 as part of the Sporting Wheelies & Disabled Association annual awards night.
Nine athletes received grants from Paralympian Marayke Jonkers, who had just returned from the Beijing Paralympics where she won a silver medal.
Handcyclist Darron Shields, from Warana and Sprinter Lucy Larson, from Caloundra were among the nine recipients from throughout Queensland, and each received $500 towards their training and competition expenses. Jonkers says they are worthy winners.
"All of the winners are very talented athletes, who have demonstrated a commitment to training and have achieved remarkable success in their sporting careers so far. This grant will allow them to focus on training and competing as they work towards their goal of competing at the London 2012 Paralympic Games," she said.
Marayke won a silver medal in her sole event at the Beijing paralympic Games, the 150m Individual Medley. She became paraplegic in a car accident as a baby, but has gone on to study at university, break world swimming records and has even tried skiing and sky diving.
She founded Sporting Dreams in 2008, after winning the Cosmopolitan Fun, Fearless female awards. Sporting Dreams aims to help athletes with disabilities to achieve fun, fitness and personal development through sport and to support future paralympic champions. Jonkers has always wanted to give something back to sport, and to ensure up and coming athletes have the same opportunities she has had.
"Athletes with disabilities train just as hard as other athletes, and experience the same thrill of winning, yet they face additional expenses. A push bike costs $100, whereas a hand cycle costs at least $1500. Athletes with disabilities are also great role models, encouraging all
Queenslanders to live a fit and healthy lifestyle," she said.
The foundation provides two level of grants to Queensland based athletes with physical disabilities.Introductory level grants ($250) assist athletes to take up a sport and development grants ($500) are to assist established athletes with training and competition
costs.
In 2008, Jonkers awarded 5 developing and four introductory grants, including two Sunshine Coast athletes.
Lucy Larson, who was born without the radius bone in one of her arms, is coached by former Olympian Denise Boyd. The Caloundra High School student won the 100 and 200m sprint for 15 year olds with a disability at the Schools athletics State Championships in October.She
is now preparing for the Pacific School Games, to be held in Canberra during December. Darron Shields took up handcycling after he moved to Australia from the UK to study sport science at the University of the Sunshine Coast. Before becoming paraplegic in an accident he was a triathlete. He has since gone on to become the Queensland head coach for handcycling, in addition to competing in the Wild West handcyling series in Perth, as well as Queensland and National Championships.