SPONSOR MARAYKE'S SWIM COACH MIKE TO DO HIS FIRST TRIATHLON AND HELP SPORTING DREAMS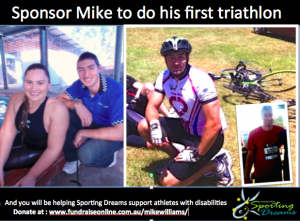 My swimming coach Mike Williams has decided to do his first triathlon in March and I'm super excited he's using the opportunity to raise funds for the foundation I started to help athletes with disabilities Sporting Dreams: The Marayke Jonkers Sporting Dreams fund.
Mike helped me to win a silver medal at the Beijing Paralympics, now I'm thrilled to have the chance to cheer on in his own sporting challenge. It really IS a challenge for Mike, he's had to over come a fear of swimming in open water AND learn to run so I'm super proud of this effort.
Please clickety here and support Mike's dream even a small donation helps – I'll really appreciate it!!!!! Even if you can't donate, could you share this with your friends? Thanks a million!!!
The Mooloolaba triathlon is on March 16, and Mike will Swim 1500m, cycle 40km and then Run 10km!!!!!
Click HERE to sponsor Mike
Previous Events
Snow White Movie Night
Mirror mirror on the wall, whose going to answer our fundraising call? We hosted  a charity movie screening of 'Snow white & the hunstman,' starring Charlize Theron, Kristen Stewart & Chris Hemsworth on June 22nd. The night raised almost $1000. Thank you to all our volunteers and supporters.
 Details
​Date: 22nd June, 2012
Time: 5:45pm for nibbles, 7pm movie starts
Location: Event Cinemas, Sunshine Plaza Maroochydore
Cost: $25 per person
Swimming for surf life savers
 Marayke & coach Rob McBroom
 Dream start raised funds for Sporting Dreams while helping Surf life savers prepare for their next season of patrols.
Marayke's swim coach Rob McBroom coached surf life savers from Marcoola and Mudjimba surf clubs to achieve their swimming proficiency goal of  swimming 400m in 9 minutes or less.
All swimmers will paid $135  for 10 weeks which included dry land and pool coaching and pool entry. All funds raised  go to Sporting Dreams. 
Date: July 10- September 13th
Time 6.50 -7.30 am tuesday and thursday mornings
Venue: Coolum swimming pool
The program is sponsored by local businesses.
Sponsors
Ramada Marcoola Beach  (formerly Surf Air)
Great Gatsby  1920s Party &  Movie
Date: 2nd June, 2013   
Time: 2pm- 6:30pm
Venue: The Cinema at Sunshine Plaza, Maroochydore, QLD.
Price: $35  inc  medium popcorn & drink/Party/ movie or   $30  Party/ movie (no popcorn)                             
​
​You're  invited to a party at 'gatsby's'
​
Step back to the 1920s  and join us for an afternoon of food, drink and Gatsby themed fun
before you head into the cinema to watch the  blockbuster movie The Great Gatsby on the
big screen. Think gangsters and flappers jazz music and the Prohibition era! 
Hosted by Paralympian Marayke Jonkers &  Sporting Dreams: changing lives through sport for athletes with disabilities

INCLUDES
Movie ticket

Entry to the Gatsby Inspired 1920's themed party

Canapes & drink at the party

Optional medium Popcorn & drink  Combo  ( a saving of  $5.00 off regular popcorn/drink price).

Raffles,  auction,  delicious food and great company

EVENT DETAILS

Date:   Sunday June 2nd, 2013
Time: Party 2.15-3.15 followed  by movie 3.30- 6.30
Location: Birch Carroll & Coyle cinemas, Sunshine Plaza  Maroochydore

Fantastic I'm in how do I  reserve a seat?
Buy your ticket online  before  Friday 31st of May. 
Steps to buy your ticket:
Click HERE to access our  online ticket sales page

Complete your details including your name and how many tickets you need etc

Pay  for your ticket ( you can  choose to use a credit card or PayPal.  (You don't need to have a PayPal account,  if you don't simply use a credit card)

Print and bring your ticket with you (dont worry if you forget we will keep a list of names but it will speed things up)

When you arrive at the cinema we will have a table in the foyer to distribute movie tickets and usher you to  the party.  Look for the Sporting Dreams banner.  Remember- don't go to the ticket counter!

Remember there will be  a raffle and auction,  so have some money handy!
FAQs

Can I pay on the night?   Unfortunately not,  we have to pre-book and pay for the tickets.
I don't want popcorn, can I get a cheaper ticket?  yes tickets without popcorn and drink are $30
Do I have to dress up 1920s style?  Yes otherwise the gangsters will shoot you and lock you in Gatsby jail!  Just joking, of course you don't have to but feel welcome to  come dressed in your Gatsby inspired  1920s finest  if you want to

Can I bring a friend?  yes please do! Tell everybody and shout it from the rooftops, the more the merrier. Send them to this website to register and buy their tickets.

Why haven't we  posted the price for this event on Facebook?  part of the  cinemas conditions for hosting the movie  event are  that we can't mention the ticket price on social media.

Can I let my friends know about the event via  Facebook? yes please do, just remember not to mention  the ticket price

Why is this event so long?  the Great Gatsby is a 3 hour movie

My question is not answered here: 

Contact Marayke:  marayke@marayke.com  or 07 54434685
 12 Hours to Rio Challenge 
Event Date: 10/08/2013
ROW, RIDE, RUN
Join the challenge to ride, run and row for 12 hours to support QLD athletes with disabilities train as they aspire to reach their dreams… maybe the Rio Paralympics!
Fatburners gym challenges their members to form teams  and keep the treadmill, rowing machine and a stationary hand cycle going for 12 hours. All funds raised will go to Sporting Dreams, founded by Paralympian  Marayke Jonkers to help the next generation of athletes.
Challengers will get the chance to experience what it's like to be an athlete with a disability as rowing, running and hand cycling are all Paralympic sports. Challengers will ride the actual handcycle used by Marayke to win bronze at the World Paratriathlon Championships.
Every challenger has a personal online fundraising page to gain sponsorship from family and friends to support Sporting Dreams.
Prizes are awarded for:
* The individual challenger who raised the most funds
* The team who raised the most funds
* The team who row, run and ride the furthest in 12 hours.
* The best team concept (costume/name)
Not a gym member? You can support the challenge by donating to one of the challengers  by donating to their page here:
SPONSOR A CHALLENGER OR DONAT TO THE CHALLENGE
ABOUT SPORTING DREAMS
Sporting Dreams aims to change lives through sport for Queensland athletes with disabilities. Founded by Paralympian Marayke Jonkers in 2008 we provide grants towards equipment such as racing wheelchairs, as well as for training & competition costs.  We have no age restrictions and support both beginner athletes and  elite athletes so they can  compete at the highest level and enjoy fun, fitness and personal development through sport.
Over the past five years we have distributed over 70 grants, and a number of the grant recipients have gone on to represent Australia in their chosen sport.
Social media
Throughout the challenge both fat burners and Sporting Dreams will be posting regular updates on  their websites and social media,  so why not  like  out  page to follow the progress of the Challenger you are sponsoring.
Sporting Dreams
www.facebook.com/sportingdreams
Fat Burners 
http://www.fatburners.com.au
https://www.facebook.com/fatburnersgym
Sporting Dreams is administered by Sporting Wheelies and Disabled Association
ABN 81 954 577 424
Donations over $2 are tax deductible
www.sportingwheelies.org.au
www.facebook.com/sporting.wheelies.and.disabled.association
www.twitter.com/SWDA_Qld