About Sporting Dreams
Founded by Paralympian Marayke Jonkers, Sporting Dreams is a foundation assisting people with physical disabilities to enjoy fun, fitness and personal development through sport and to achieve their sporting dreams – becoming role models for a fit and healthy lifestyle in the process. We provide grants to assist with the cost of equipment such as racing wheelchairs, and to assist with training and competition expenses.
History
Sporting Dreams was founded by Paralympic medal winning swimmer Marayke Jonkers in 2008.
When Marayke won $10,000 as the inaugural Cosmopolitan Magazine fun fearless female she decided to use the money to start sporting Dreams.
Marayke says she always wanted to give something back to sport, which has given her so many opportunities.
Marayke was voted as the winner by Cosmo readers, after being named as one of five finalists for the award. She was flown to Sydney for a gala presentation where she and the other four finalists were dressed and styled by the Cosmo team (including Jennifer Hawkins' make up artist much to Marayke's delight) before they walked the red carpet.
Marayke told the audience after winning that she was going to use the funds to start a foundation to help athletes, something she had dreamed of since childhood when she saw how hard it was for her family to support her own swimming career.
Sporting Dreams was administered by the Sporting Wheelies and Disabled Association Queensland, however though we still enjoy a professional relationship, Sporting Dreams Queensland became an incorporated association in 2016.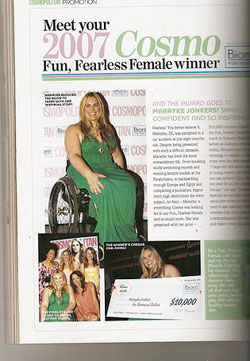 Why do athletes with disabilities need support?
Athletes with disabilities train just as hard as able bodied athletes and experience the same thrills of sport: the joy of winning, the agony of losing and for very elite athletes the pride of representing Australia.
Yet there are additional financial barriers. An able bodied child interested in learning to ride a bike with their siblings can pick one up at Kmart for $100. A wheelchair athlete will have to spend $1500-$12,000 to have a specially adapted hand cycle custom built to suit their needs. "A runner needs a pair of racing shoes. A wheelchair racer needs a $3000 racing chair to race on the exact same track. "
An able-bodied athlete who wants to learn to swim can join the local swim club and swim in a squad, who share the costs of a coach. Often a swimmer with a disability may require one on one coaching at a much higher expense.
When athletes are given the equipment and support, their is no limit to the sporting glory that can be achieved. And the whole community is inspired.
Marayke saw a huge unmet need – athletes and their families but are left to foot the bill or fundraise for often equipment and training- which is why she founded Sporting Dreams.
In spite of the introduction of the National Disability Insurance Scheme (NDIS) which is designed to assist Australians living with a disability, there remain gaps in funding aspects of disability-related participation in sport.
Objectives
Improve the lives of athletes with a disability (including fun, fitness, improved self-esteem and independence_ through involvement in sport regardless of race, gender, religion nor age by: (a) providing assistance to remove barriers to participation and performance in sport; (b) providing resources, including but not limited to products and services, and financial assistance, to assist athletes to access and participate in sport.
Inform and educate the pubic in relation to issues experienced by people with a disability through the lens of sport.
Facilitate networking and co-ordination between industry stakeholders and athletes.
Aims
Our aim is to change lives through sport by providing grants to help people with physical disabilities become involved in sport and even unearth some future champions.
The grants are open to beginner and developing athletes and are awarded once a year, covering equipment, training and competition costs.
To change lives through sport by providing grants to help people with physical disabilities live an active lifestyle and participate in competitive sport and achieve their sporting dreams. The grants are awarded once a year and cover equipment, training and competition costs.
To have a significant impact on each athlete who receives a grant by providing inspiration  and mentoring in addition to a funding grant.
Values
We believe that involvement in sports at all levels increases self-esteem, encourages independence and enhances quality of life. We also believe that awarding an athlete with a grant does far more than provide vital funds, it sends an inspiring message to the athlete that "we believe in you."
Sporting Dreams Logo
The Sporting Dreams logo was designed by Kylie Jackat of Dalee Design and Butterfly Kids.
It is a symbol of a successful athlete, arms raised in victory as they cross the finishing line. The circular shape represents a racing wheelchair , and the arms could also be seen to represent wings as the athlete takes flight and reaches for the stars.
The colours lime green and blue were chosen to represent the earth and water where all athletes compete, as well as incorporating the Australian colours of green and gold. The stars also have a double meaning, representing Australia in the form of the Southern Cross and also encouraging athletes to 'reach for the stars' and chase their Sporting Dreams.