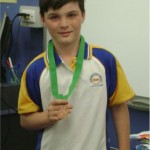 Blake Anderson – Cross Country
Blake, 11, is the national and state cross-country champion, after winning gold at the Nationals in Tasmania in 2013. He took up the sport last year after starting to train with his sister Khi, and it is now a family affair for the Mount Kilcoy locals with his parents joining in training sessions.
Blake, who has cerebral palsy, has also competed in state athletics championship in the 100m, 200m, 800m and long jump. He plays golf and is part of his school's League Tag team.
He aims to compete in the 2014 Cross Country National Championships in Perth.