Remember to check under your car for penguins when you leave the car park, the ranger instructs us as we commence our tour. Where else could we be but the Penguin Parade on Phillip Island, a 90 minute drive from Melbourne.
Each evening at sunset the 'little' penguins emerge from the ocean en mass waddling up the sand dunes towards their burrows, and watching the entire process is wheelchair accessible.
Able-bodied guests and wheelchair users alike meander through the dunes towards a viewing platform via a zigzagging timber boardwalk.
The designated seating area for wheelchair users is directly beside the path of the Penguins and in breeding season you hear the chicks calling from the burrows awaiting dinner from their parents long before you see the penguins breach surface of the waves.
The adults scurry past us up the hills ready to regurgitate their catch of fish for their hungry youngsters. Live streaming of these chicks, from cameras hidden inside burrows, forms part of the interactive displays in the information centre as you wait inside for the ranger to announce 'it's 'penguin time.'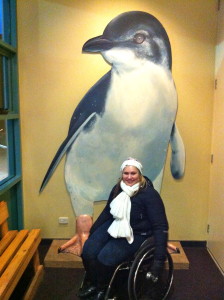 You can even send a postcard with a penguin parade postmark.
Koala Conservation Sanctuary
Besides penguins, Phillip Island has many other wildlife attractions. At the koala conservation centre you'll see koalas in their natural habitat from the wheelchair friendly tree top walk. If you've wondered about the mating call of a call koala, or how many eucalyptus leaves they consume in a day, you will discover these and many other facts presented in an interactive way sure to delight children in the visitor interpretation centre.
Accommodation
I chose to stay at Alvina farm stay in an accessible cottage set amongst 15 acres near Ventnor Beach. Not only is the cottage accessible, all the adapted details and dimensions are available on their website to put your mind at ease before you arrive.
Equipment hire – beach wheelchairs/ hoists etc
If you need to hire a pressure relieving mattress or any other equipment the Alvina website lists all options available onsite, including hoists, beach wheelchairs and a vehicle with a wheelchair lift. Carers can also be arranged. At Alvina everything has been thought of to create the perfect accessible family farms stay, even the playground has a specially equipped high back swing for children with disabilities.
On my first morning as I ventured into the accessible kitchen to prepare breakfast (kindly provided by our host), a miniature horse poked his head over the fence to the window, and I went outside to hand feed him. He is one of many farm animals, including cattle, alpacas, chickens and sheep.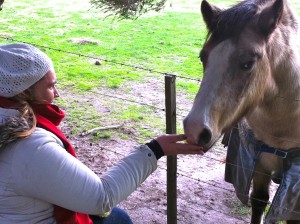 Natural beauty and wildlife
Our hosts also have a wealth of knowledge about what to see and do on 'the island' as it's affectionately known by locals. The island is rich with natural beauty including the 'Nobbies,' a rocky outcrop home to the largest colony of Australian fur seals in the country.
You'll smell the seals long before you see them, and can enjoy a spot of bird watching.
We were able to view most of the attractions through the windscreen (drive-by tourism is one of my many tips when travelling in a wheelchair as it's so much easier than multiple transfers in and out of the car, and assembling your wheelchair).
Heritage meets Paradise: Churchill Island Farm
Another natural beauty of the area, well worth a drive is Churchill Island Heritage Farm , with native bird life, heathlands, iconic highland cattle and many historic buildings built from 1850 onwards. We enjoyed sumptuous lunch in the café overlooking sweeping views of Phillip Island and Western Port.
Paralympic pampering
If wildlife is not your thing why not be pampered at a day spa on the island. It's not everyday you can be massaged by a Paralympic medallist, but you can do just that when you visit retired swimmer Amanda Drennan at Tui Na Chinese Massage in the main town of Cowes. A single leg amputee since birth, Amanda is a local legend after making history as the first person to swim around Phillip Island (a distance of 66km in a shark cage).
From the relaxing to the extreme Phillip Island is also famous for the MotoGP, and if you've ever fancied doing a lap of the grand prix circuit then take the opportunity to book in for a hot lap, go karting or slot car experience.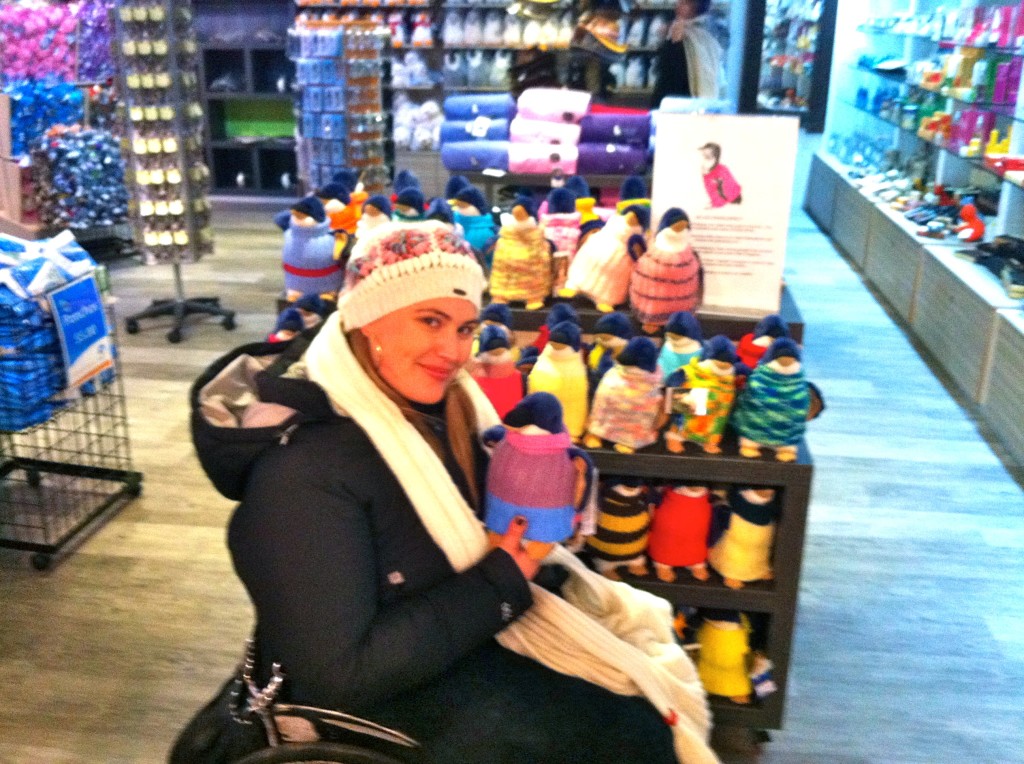 Of all the experiences Phillip Island has to offer, my personal favourite was the Penguin Parade. Even an hour after officially finishing penguins were still darting across the boardwalk as we made our way back to our vehicle.
As we departed there was time for a selfie with the "check under your car for Penguins" sign, but fortunately no penguins beneath us.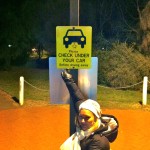 ALL THE INFO & LINKS
Wheelchair accessible facilities Penguin parade: http://www.penguins.org.au
• Disabled toilet: yes in visitor information Centre
• disabled parking: Yes
• Access to beach for Penguin Parade: this is down a series of zigzagging game boardwalk ramps. As a manual wheelchair user if you are fit and strong in May be able to tackle them yourself (I did) or you may wish to have someone pushing. Power assisted wheelchairs, scooters etc will be fine. A golf buggy service is also available from the information Centre.
• Penguin viewing: there is a designated wheelchair seating area on the platform at the beach directly beside the path of the Penguins. You'll see the penguins walking through the sand on their way up the sand dune's two wards their burrows. As I had visited multiple times I was disappointed that I was not allowed to sit in the area facing the water and watch them emerge from the ocean. Wheelchair users must always sit in the same wheelchair seating area.
Koala Conservation Centre http://www.visitphillipisland.com/listing/koala-conservation-centre/
• accessible toilets, parking and boardwalk. Some gravel in car park.
Accommodation www.alvina.com.au
Accessibility resources: The Bass shire council has put a great deal of effort into ensuring tourist activities and information are accessible for all visitors. Please drop into a visitor information Centre or visit their website for information about hiring beach wheelchairs, accessible walking tracks, accommodation, accessible attractions, accessible parking and toilets, mobility maps, pictorial bus timetables and Hospitality kit for deaf and hard of hearing. http://www.visitphillipisland.com/category/explore/accessibilty/
Transport: public transport does not operate to facilities such as parade. If you are unable to access coach tour, a hire car would be the best option. Alvina cottages has a wheelchair accessible van available for hire.
Massage: Amanda Drennan Chinese massage: https://www.facebook.com/pages/Amanda-Drennan-Tui-Na-Chinese-Massage
read the original story a link magazine by clicking the image below.*Published in Link Disability Magazine, December 2014