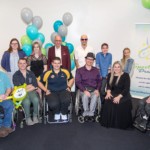 Triple Paralympian Marayke Jonkers has awarded Sporting Dreams grants to Rio bound Paralympic debutants swimmer Katja Dedekind, and paracnoesist Susan Siepel among 18 winners from the grant program she founded to empower Queensland athletes with a disability at a gala event on the Sunshine Coast on Aug 27th, attended by VIP guest Tony Dee who is the singing star of the "we're the super humans add" for the Paralympians with over 4 million you tube views.
The ceremony marked a milestone $50 000 given by the Sporting Dreams
Jonkers says reaching the milestone is more than she could ever dreamt of when she started the charity 8 years ago.
"This is a very poignant milestone for me for two reasons, firstly 10 athletes who we assisted to get their start in support and supported since will be competing at the Rio Paralympics in September showing the benefits of what this money has achieved- athletes we helped get their start 8 years ago are now inspiring the next generation of grant recipients starting out in sport. Secondly it means a lot because  this ceremony is testament to how far a dream can come in 8 short years,  considering that when we began in 2008 I had no idea how to run a charity only that athletes needed help to cover equipment and training costs and I wanted to provide it-that was my sporting dream for other athletes. All this money has been raised by the community. I can't thank people enough for  their support of our athletes  which has truly changed lives through sport,' She says.
"This year's Sporting Dreams grant recipients are very talented athletes, who have demonstrated a commitment to training and have achieved remarkable success in their sporting careers so far. This grant will allow them to focus on training and competing as they work towards their goal of competing at the Tokyo 2018 Winter Paralympics, Rio 2016 Summer Paralympic Games and beyond," she said.
"Both girls have been part of the sporting dreams family for some time, having received grants in the past (Susan was an inaugural grant recipient in 200 and in years since) and each has ultimately had to change sports in order to realise their dream to compete at the Paralympic Games. Their resilience to overcome injury and setbacks and adapt to change in order to fulfil that goal demonstrates that they are not only remarkable athletes but inspiring human beings and I wish them every success in Rio," she says
Seipel will make history when she competes in Rio, as Para Conoe is making its debut as a Paralympic sport making her the part of the first ever Australian Paracanoe team, and giving her the chance to compete for the historic first Paralympic Paracanoe medals on the water beneath Christ the Redeemer. She is a strong medal chance having had an outstanding 2014 and 2015 in paracanoe. She qualified for the 2016 Paralympics in Rio finishing third place in the women's KL2 200 metre. Having previously competed in Para Equestrian, Susan found joy in kayaking after meeting and being encouraged by Olympic kayaker, Amanda Rankin, in 2012 and she hasn't looked back. Born with Arthrogryposis Multiplex, a condition that fusions joints and absent muscle formation.
Dedekinds rise to the top of her sport has been astonishing. She only took up swimming seriously just over a year ago after a serious shoulder forced her to stop competing in goalball, the sport she had already represented Australia in at a junior level. She headed to the National Championships in Adelaide this May beaten seasoned Paralympian to earn one of the highly coveted 36 slots available on the Australian Swim Team. Her early sporting career involved representing Queensland in both Goalball and swimming in the Pacific School Games. Over the course of 2015 swimming competitions, Dedekind won in total 18 gold medals, 4 silver medals and 1 bronze medal. Born visually impaired, she has shown that hard work, dedication and mental resilience has given her what it takes to become a better athlete.
Unfortunately, Dedekind and Siepel were unable to attend the ceremony. Dedekind is currently in Alabama in the United States, with the Australian Paralympic Team at their staging camp for the Rio Paralympics. Siepel is also currently overseas preparing for the Rio Paralympics, with the Para Canoe team based at the AIS European training facility in Varese Italy.
A total of 18 rising stars and established athletes from across Queensland were awarded individual grants of up to $500 as part of the funding allocation. They will use their grants towards costs such as sports equipment, competition fees and travel expenses.
They ranged in age from 10-year- old Marcus Distefano, Para Equestrian to mature age Para Equestrian competitor Peter Smith, who at 71 won the Riding for the Disabled National Championships just 2 years after competing.
Athletes compete in sports varying from Para Snow Boarding to swimming, athletics, Para Equestrian and wheelchair basketball, Paracanoe and lawn bowls. Out of this years recipients Susan Seipel (Paracanoe), Claire Keefer (athletics) and Katja Dedekind (swimming) have since qualified for the Rio Paralympic Games and are overseas preparing.
The evening's special guest Tony Dee shared behind the scenes stories from filming STAR OF THE WE ARE THE SUPER HUMANS's add for the Rio Paralympic Games by CH 4 in the UK, who can be seen on Channel 7's Paralympic adds and on social media as the lead singer racing down ramps wandering through athletics events while singing "Yes I can."
The audience was rapt by his revelations from stunt doubles to green screens and having his wheelchair pulled by a car to keep pace with wheelchair racers while singing while being blasted by a leaf blower on a freezing winters day to create a windswept effect.
Marayke established Sporting Dreams in 2008 with a $10,000 grant she received as winner of a national women's magazine award. She said she was proud of having supported 137 athletes with disabilities since then.
"Becoming a Paralympian has changed my life and I wanted to ensure every athlete had the same opportunity to experience the benefits I have had through sport, which is why I started Sporting Dreams," said Marayke.
"Athletes with disabilities train just as hard as other athletes, and experience the same thrill of winning, yet they face additional expenses. A push bike costs $100, whereas a handcycle costs at least $1500. Athletes with disabilities are also great role models, encouraging all Queenslanders to live a fit and healthy lifestyle," she said.
A triple Paralympian Marayke won a silver medal in her sole event at the Beijing Paralympic Games, the 150m Individual Medley. She also won two bronze medals at the Athens 2004 Paralympics, and placed 4th and 6th at her first Paralympics in Sydney 2000.
Jonkers learned to swim after she became paraplegic in a car accident as a child. When doctors told her mother Marayke would never walk, she taught her to swim instead. Marayke has gone on to break over 70 Australian records. She also made history becoming Australia's first ever female Paratriathlete and medalist at the 2010 ITU world Triathlon Championships in Budapest.Jonkers had hoped to swim at the London 2012 Paralympic Games, but was forced to retire from competitive sport due to injury in 2011. She now aims to help the next generation of athletes through Sporting Dreams.
Sporting Dreams is administered by Sporting Wheelies and Disabled Association. The foundation depends on fundraising and corporate support to continue its work in supporting athletes with disabilities.
To support the foundation, or to find out more about Sporting Dreams, visit www.sportingdreams.org.au. Businesses are invited to sponsor a sporting grant in 2015 and Marayke is available for speaking engagements and .
PHOTO L-R
PHOTO CREDIT: Marion Jonkers Photography
(See full list of 2014 Sporting Dreams grant recipients below)
Media contact:
Marayke Jonkers, Sporting Dreams founder
Ph (07) 5443 4685 or mobile 0412 751 407
Tony Dee:
We're the Super Human's advertisement: https://www.youtube.com/watch?v=IocLkk3aYlk
Superhumans; pro files Tony Dee: https://www.youtube.com/watch?v=ctQuQjkJQF4
Sporting Dreams Grant Recipients
Introductory Grants (for beginner athletes or athletes in their first year of competition)
Annette Goldsworthy – Lawn Bowls – Bargara
Ashley Wardman – Wheelchair Basketball – Caboolture Region
Jashar Keetley – Wheelchair Basketball – Mooloolaba
Kanako Weightman – Athletics – Kelso
Katja Dedekind – Swimming – Brisbane (Kenmore) – headed to Rio in the new sport of swimming, changing from goalball
Laura Power – Para Equestrian – King Scrub
Marcus Distefano – Para Equestrian – Woodgate
Megan Guilfoyle – Para Equestrian – Adara
Nathan Donaldson – Wheelchair Racing – Bundaberg)
Peter Smith – Para Equestrian – Bullyard
Simon Patmore- Para Snowboarding (former Paralympian in athletics) – Nundah
Development Grants (for established athletes)
Alicia Goodwin – Swimming – Camp Hill
Dylan child – Wheelchair Basketball – Brisbane
Glen Nickjiweski – Vision Impaired Golf – Loganlea
Ray Piper – Golf – Helensvale (Gold Coast)
Cheryl Buscemi-Le-Brun – Masters Athletics – Innisfail
Susan Siepel – Para Canoe (headed to Rio) Gold Boast/ Bellbowrie
Tom Holland Roach – Wheelchair basketball – Redbank Plains
Claire Keefer – Athletics (headed to Rio to compete in discus with the track and field athletics team) – Withcott (Toowoomba)
SPORTING DREAMS ATHLETES DESTINED FOR RIO
Logan Powell- Swimming
Katja Dedekind- Swimming
Rachael Watson – Swimming
Lakeisha Patterson
Bradley Mark Para shooting
Natalie Smith- Para Shooting
Susan Seipel-Para Canoe
Claire Keefer- athletics
Rheed McCracken- wheelchair Racing
Sam Carter- wheelchair Racing